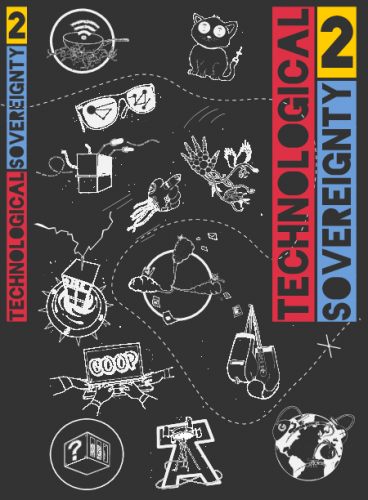 Tech Talks
Last week, I spoke at The Conference in Malmö, Sweden, where I saw quite some interesting tech talks. The super-efficient Swedes have already uploaded them, so I present you some of my favorites:
Meghan O'Gieblyn – God in the machine [48:12]
Brett Scott – The war on cash [14:41]
Nicole He – Say my name, say my name [15:15]
Darius Kazemi – Social solutions to social networking [16:20]
Next week, I'm doing a talk in Paris. Knowing the French a bit, these videos will never be uploaded, so be there.
Technological Sovereignty
We deserve to have other technologies, something better than what we nowadays call Information and Communication Technologies. This book delves into the guiding principles of technological sovereignty and proposes new theoretical and practical descriptions of some initiatives developing free technologies. It deals with its psychological, social, political, ecological and economic costs while it relates experiences to create Technological Sovereignty.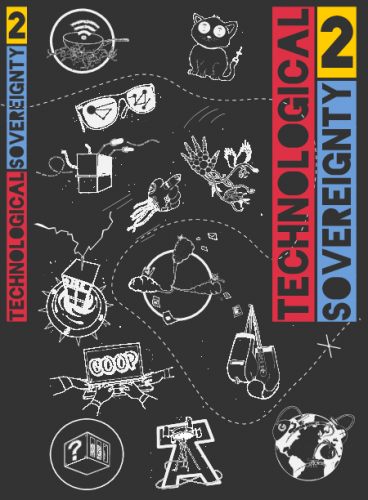 The authors bring us closer to other ways of desiring, designing, producing and maintaining technologies. Experiences and initiatives to develop freedom, autonomy and social justice while creating autonomous mobile telephony systems, simultaneous translation networks, leaks platforms, security tools, sovereign algorithms, ethical servers and appropriate technologies among others.
From the introduction to Technological Sovereignty Vol.2,, which is available in English, French, and Spanish. The first volume is available in French and Spanish only.
Anti-Tech Riots
"If the recent speculation about jobs and AI is even close to being correct, then fairly soon "luddite" will join far-right and Islamist on the list of government-defined extremisms". Read more: Will 2018 be the year of the neo-luddite?March 5, 2018 by kris de decker Filed Under: TechnologyInvisible Algorithms, Invisible Politics
We have been enticed into a world in which computing has faded into the background of everyday life, effectively becoming invisible. At the same time, we have actively concealed the ways in which these networked systems of software, data, technologies, and infrastructures "have politics". And, with promises that computers are impartial, we have removed them from the public eye, making them difficult to expose and critique.
Yet these systems can only be understood as the flawed extensions of human creation. They act on our biases by replicating them and distributing them into the background of everyday life, thereby reinforcing and even exacerbating existing structural inequalities… Rather than letting these systems fade into the background, a deeper engagement with the material realities of digital technologies is necessary.
Read more: Invisible algorithms, invisible politics, Laura Forland. Via SF Sutcliffe.
February 18, 2018 by kris de decker Filed Under: TechnologyLow tech? Wild tech!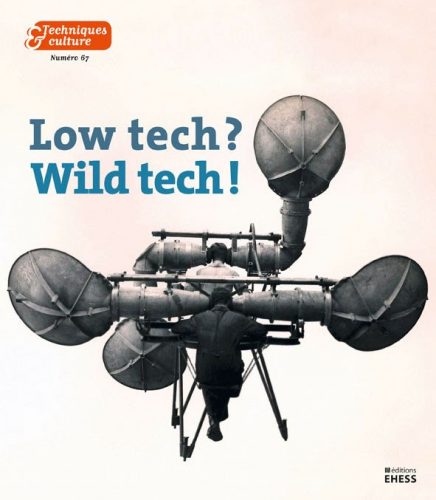 The French scientific magazine Techniques et Culture has published an entire volume about alternative forms of technology: "Low-tech? Wild tech!". The 300-page issue explores the differences and conflicts between high-tech and low-tech, with a focus on all the forms of technology which are in between these extremes.
The authors argue for a more sophisticated view of technological evolution, which is now usually seen as linear progress towards ever increasing complexity and perfection. The contributions show that reality is much more complicated, and much more interesting.
The issue is the fruit of a three-day discussion in Paris in 2012, in which I participated. The volume features a translated article from Low-tech Magazine: "How to build a low-tech Internet?". "Low tech? Wild tech!" will be presented and discussed in Paris on December 9, 2017.
Rethink, Retool, Reboot: Technology Justice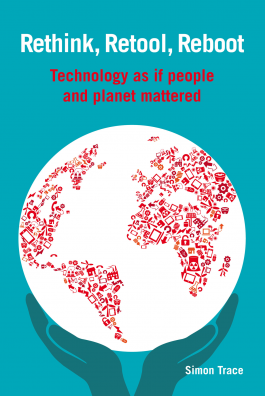 Practical Action, the international NGO that uses technology to challenge poverty in "developing" countries, has published a new book that is freely accessible online. Rethink, Retool, Reboot: Technology as if People and Planet Mattered is written by Simon Trace.
A fifth of the world's population lacks access to technologies fundamental to a basic standard of living, while unfettered use of technology by those who have it brings its own problems. Inspired by EF Schumacher's 1973 book Small is Beautiful, Trace argues that ending poverty and achieving environmental sustainability cannot be realized without radical changes to the way technology is developed, accessed, and used:
"Humanity has lost control of technology, or rather relinquished it to the vagaries of the market, assuming its 'invisible hand' will ensure the most efficient development and dissemination of technology that best meets people's needs – an assumption that is wrong."
The book is divided into three sections. Part 1 starts by looking at notions of technological progress and the relationship between technology and human development, demonstrating the need to 'rethink' how we use and provide access to technology. Part 2 goes on to explore the idea that we need to 'retool' — to re-examine our innovation processes — in order to focus on driving technology development towards, rather than away from, the twin problems of poverty and environmental sustainability. The book closes with a third section that sets out a series of radical changes required to 'reboot' our relationship with technology.
August 2, 2016 by kris de decker Filed Under: Technology

Source